DREAM2 NEWS
---
DREAM2 intern Keenan Hunt-Stone wins SPS award
Howard University's Keenan Hunt-Stone was one of a select few students to receive an award for his poster from the Society of Physics Students (SPS) at PhysCon 2016 held in San Francisco, CA, on November 2–6. His poster entitled "Constraining Lunar Surface Charging with Apollo CPLEE Observations" described research performed as a summer intern with mentor Tim Stubbs, with the research supported by the DREAM2's intern program. Congratulations to Keenan!
For more details, see
http://www.sigmapisigma.org/sigmapisigma/congress/2016/poster-presentations
---
DREAM2 makes a set of presentations at LEAG
The annual meeting of the Lunar Exploration Analysis Group (LEAG) was held last week from 11/1-3 in Columbia Maryland. DREAM2 team members made a number of presentation including mission reports, new findings on the lunar regolith, and descriptions of exciting new upcoming missions like Resource Prospector and Lunar Ice Cube. The program and associated presentations can be found at
http://www.hou.usra.edu/meetings/leag2016/pdf/program.pdf
---
SSERVI Director Seminar: Dana Hurley presents an overview of Lunar Polar Volatiles
Earlier this month, DREAM2 Co-I Dana Hurley presented a terrific review of the current state of knowledge of water at the lunar poles. The presentation was made at NASA HQ as part of the SSERVI Director's Seminar series. Both a recording of the talk and the slide set can be found at
https://sservi.nasa.gov/event/sservi-directors-seminar-featuring-dana-m-hurley/
---
NewScientist magazine features DREAM2 study of Deep Dielectric Discharge at the Moon
DREAM2 co-i Andrew Jordan is featured in a New Scientist article discussing the effect of radiation-induced deep dielectric discharge on the regolith at the cold lunar poles. He was the lead of a study team to understand the phenomena and their results were recently published in Icarus. For more details, on the NewScientist article, see
https://www.newscientist.com/article/2105423-tiny-lightning-bolt-explosions-can-vaporise-the-moons-thin-soil/
The Icarus research article is at
http://www.sciencedirect.com/science/article/pii/S0019103516305358
---
OSIRIS-REx launches to asteroid Bennu
Congratulations to the O-REx team for a successful and spectacular evening launch (see
http://spaceref.com/osiris-rex/osiris-rex-speeds-toward-asteroid-rendezvous.html
). Congrats especially to our DREAM2 co-i and collaborating team members who are part of the O-REx adventure: John Marshall, Lucy Lim, and Joe Nuth. Congratulations also to members of our DREAM2 E/PO team Lora Bleacher and Andrea Jones who supported the terrific public communications efforts.
---
DREAM2 investigators examine super-charged lunar soils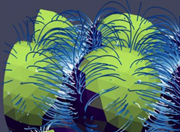 DREAM2 co-I Mike Zimmerman at APL recently lead a simulation study of lunar surface dust regolith charging in plasma and in sunlight – showing the development of inhomogeneous grain charging and the formation of large E-fields between grains. Zimmerman's research team included members of SSERVI's DREAM2, IMPACT, and VOTICES teams. The paper was recently accepted and is now in press in Journal of Geophysical Research.
See
http://onlinelibrary.wiley.com/doi/10.1002/2016JE005049/full
---
DREAM2 Intern Ana Newheart wins award in NASA's Exploration Science Forum Student Poster Contest
DREAM2 intern Ana Newheart won a travel award for her poster 'Apollo ALSEP/SIDE Observations of Stairstep Flux Profiles in the Terrestrial Magnetotail'. She works with mentor Michael Collier on analysis of data from the Suprathermal Ion Detector Experiment (SIDE) deployed and left on the Moon by Apollo astronauts. It remains a unique data set - paying terrific dividends to the next generation of explorers. Congratulations Ana!
See
http://sservi.nasa.gov/articles/esf-2016-student-poster-award-winners/
---
DREAM2 prepares for the NASA Exploration Science Forum

DREAM2 team members are preparing for the annual Exploration Science Forum held at NASA Ames Research Center from July 20-22 and the preceding 3rd Conference on the Exploration of Phobos and Deimos on July 18-19. The programs for each are accessible from the ESF home page at
http://nesf2016.arc.nasa.gov
. DREAM2 has numerous presentations in both conferences.
---
DREAM2 Phobos study is May's JGR-Planets Cover
DREAM2 Co-I Andrew Poppe at UC Berkeley led a team in examining plasma sputtering at Phobos, and modeling the resulting neutral gas emission and associated pick-up ions. Their recent paper can be found at
http://onlinelibrary.wiley.com/doi/10.1002/2015JE004948/full
Key figures showing the distribution of pick-up ions from the moon at Mars made the cover of Journal Geophysical Research- Planets. See
http://onlinelibrary.wiley.com/doi/10.1002/jgre.20434/epdf
---
DREAM2 team has its SSERVI-Central Site Visit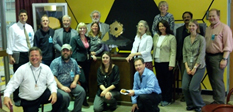 On May 3, the DREAM2 team had a site visit from the SSERVI Director, Dr. Yvonne Pendleton, and included key members of the other 8 SSERVI teams. At the site visit, the DREAM2 theme core leads presented the latest research and there were special talks on the recent Phobos environment studies, radiation dose effect calculations, CCMC modeling work, and astronaut-regolith first contact models.
---
DREAM2 & LRO research gives new insights into how the Moon got 'inked'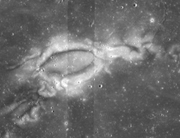 A powerful combination of observations and computer simulations is giving new clues to how the moon got its mysterious "tattoos" -- swirling patterns of light and dark found at over a hundred locations across the lunar surface.
For more information see:
http://www.nasa.gov/feature/goddard/2016/lunar-swirls
---
DREAM2 Team Members at Upcoming Public Outreach Events
DREAM2 team members will be on hand at Earth Day festivities at Union Station in DC on April 20-21 from 9:30am-5:00pm to talk with the public about how NASA scientists are exploring and studying Earth's neighborhood (
http://www.earthday.org/campaigns/education/earth-day-union-station/
). Team members will also share information about the Moon and other objects in our solar system at the annual Planet Walk on the Baltimore to Annapolis Trail on May 7th from 10:00am-2:30pm (
http://www.friendsofaatrails.org/planet_walk.htm
). The public is invited to attend both of these free events!
---
DREAM2Explore Teacher Professional Development Workshop– Registration Now Open!
July 11–15
NASA's Goddard Space Flight Center
DREAM2 is hosting a free workshop for grade 6–9 science teachers. Participants will learn how our understanding of the Moon, asteroids, and the moons of Mars is growing and changing with new data and models from current and recent planetary missions and the work of the DREAM2 team. Teachers will meet with NASA scientists that study the dynamic environments surrounding these rocky objects. All pre-service and in-service grade 6–9 science teachers are encouraged to apply! More information about the workshop and a link to the applications are available here:
http://ssed.gsfc.nasa.gov/dream/DREAM/DREAM2Explore.html
.
---
DREAM2 study featured on the cover of JGR
Results from a study led by DREAM2 postdoc Shahab Fatemi at UC Berkeley were published in Journal of Geophysical Research – Space Physics. The team modeled the solar wind plasma interaction with the Moons' Gerasimovich magnetic anomaly using a state-of-the-art plasma simulation. The stunning visuals, showing a reflected ion fountain from the anomaly, graced the June 2015 journal cover. Congratulations to Shahab and his team!
The paper can be downloaded at:
http://onlinelibrary.wiley.com/doi/10.1002/2015JA021027/full
.
---
DREAM2 Submits its Annual Report to SSERVI
DREAM2's Program Year 2 produced a set of terrific new results on topics like deep dielectric discharge, roving in shadowed regions, the generation of a possible neutral gas torus from Phobos and more. The team also included an outstanding set of early career interns and students from our partnering institutions. Read all about it at
http://ssed.gsfc.nasa.gov/dream/docs/DREAM2_Annual_Report_Program_Year.020116.pdf
.
---
DREAM2 Co-I Hurley leads team in assessing Lunar Polar Volatiles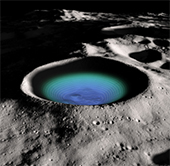 Based on a request by HEOMD leadership, DREAM2's Dana Hurley led a team from SSERVI and the Friends of Lunar Volatiles in generating a white paper describing the existing observations of the polar volatile environment at the Moon. The white paper was submitted in mid-January of 2016 and can be found at
http://ssed.gsfc.nasa.gov/dream/docs/PolarVolatiles_HEOMD_Hurley.pdf
.
---
DREAM2 co-I Misra wins NASA Early Opportunity Program Award
A new Howard University and UMBC program will provide an early career pathway for underrepresented minority and women STEM students. The effort will focus on exposing six selected Howard University freshmen to NASA-centric research in Astrophysics, Solar System Exploration, Heliophysics and Earth Sciences throughout their undergraduate tenure. The six Howard University students will be stationed full-time at Goddard (some are anticipated to become part of DREAM2) during the three summers they are funded by this project. Dr. Misra is the PI of this new effort.
Read more...
---
2015 DREAM News